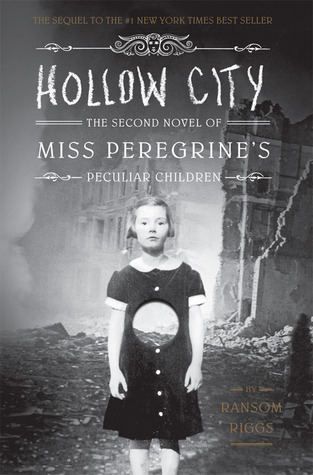 Hollow City
Ransom Riggs
Before I even start with this review I am thanking my sister for giving me this book as a belated birthday gift. I felt really happy waking up in the morning and seeing a copy of this on my table. It really made my day. I love sweet surprises.
Anyway, back to the book.
Hollow City is the continuation of Ms. Peregrine's Home for Peculiar Children. It starts with Jacob with the peculiar children riding on a boat, looking back to the destroyed island they have called home for centuries. Without a loop and an injured ymbryne, they go on a journey to look for Ms. Wren, the only ymbryne left uncaptured, and ask help to cure Ms. Peregrine who is stuck in her bird form. They travel from loop to loop, time zones and unknown places while evading hollowghasts and wights.
What I love most about this book is the collection of vintage photographs used to describe peculiars and timezones. It looks very eerie although the plot was never about horrors. It is a nice touch.
The pace of the book was quite slow and dragging. There were moments that I wanted to skip parts but I think this is forgivable because the ending killed it.
I am not really sure about the Jacob-Emma romance. If you ask me, I don't want this to continue in the next books. Emma was Jacob's grandfather's love interest. To think that Emma is an old lady trapped in a child's body is creepy and a teenager falling in love with her does not sound right in a young adult book.
It was very interesting that a lot of peculiars have been introduced in the book. It shows that peculiardom is a vast concept and makes you look forward to what else is out there.
The climax of the book came too late and was very short. Just when things were getting real good, the author slapped me with an open -ended story. Damn.
Jacob's discovery about his ability to talk to hollows sounded like Harry Potter discovering he has a parseltongue.