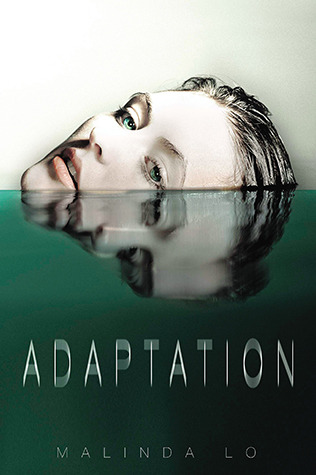 Adaptation by Malinda Lo
We were challenged to finish a YA book with a minimum of 280 pages. The earliest review to be posted on Goodreads was scheduled on the morning of April 22nd (that's this morning) until the 26th (Sunday). Everyone in TFG was up to the challenge and wanted to post their reviews in the earliest possible time. Challenge accepted, we were all ready to finish a book in less than 24 hours and whip up a good review with not less than 150 words. I felt really lucky to have just bought a new book a few weeks ago because I did not have a hard time looking for a book to read and review.
This challenge was a bit out of my normal reading/review writing pace but it was fun sans the sleepless night. I was typing my review from my phone screen while I was out early in the morning for a meeting. It was hard but I made it – yay! Here is my review for Adaptation:
After an unsuccessful stint at the national debate championship, Reese, David and their coach Mr. Chapman waits to board their flight but things got awry because of birds crashing on planes. There were a total of 9 plane crashes because of these birds and a flight ban was raised. Believing that this was not a normal occurence, Reese convinces David and Mr. Chapman to consider renting a car and driving back to San Francisco. On their way home, Mr. Chapman gets shot by a car jacker and the two gets in a car accident after fleeing.
27 days later, Reese wakes up dazed in a military hospital. She was healed nonetheless, she and David all patched up and ready to go home as if nothing happened. They signed a non-disclosure agreement and were sent home.
Things seems strange when they got home. Curfews are enforced and there were teams collecting dead birds every now and then. Reese and David then decide to discover what else happened in the 27 days and whatever it is that is hidden from the public.
I like the premise of the plot because it looks intriguing but going through the book it was somewhat underdeveloped. This is a first of a series and I hope the author picks up the pace soon enough.
This is the first book I read involving lesbian romance.
The character development lacks strength.
The book gets dragging at some point.
The climax was anti-climactic.