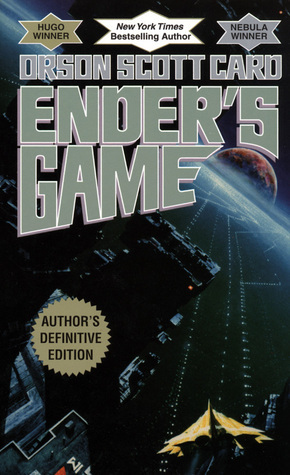 Ender's Game by Orson Scott Card
Late Post: I read this book as a part of the reading activity/challenge for TFG's monthly discussion (but this is not our book of the month).
Ender's Game has been on my to-read list since I saw the movie back in 2013, so thanks Maria because I finally crossed this one off my list. Hehe.
Okay, since I watched the movie before reading, I might compare the two for the most part.
1. I liked the movie and I liked the book even more because of the depth of Ender as a character and the circumstances he is in. It's something I did not see or fully understood in the film – his true thoughts, fears and ideas. It was magnified in the book and I understood more who Ender is as a person.
2. I was surprised that the students in the Battle School are children! They're 8-12 year olds studying battle tactics and kicking each others' asses off during the game. I imagined them to be teenagers just like in the movies but then maybe they toned it down for the audiences (imagine child actors inflicting violence). Also, reading through the book, I often forget that they are children because of how they compose themselves. They're like adults, heck, they're even more mature than I am and they haven't even undergone puberty.
3. If anything, I find the character development of Peter and Valentine lacking in exposure. They have strong and interesting attitudes, and I felt that their genius or rather their plot to rule the world was not narrated thoroughly. It would have been great to see how they conquered the political world on a side story (or a different book altogether)
4. I loved the battle games, just like everyone else, I think.
5. What makes me like the novel most is the fact that it's not heavy sci-fi. It gives balance to empathic readers who veer more on contemporary novels at the same time, gives justice to sci-fi geeky lovers who want aliens, spaceships and wars.
After reading this, I think I'd want to grab the next book in the series and am hoping that the next book be produced as a movie sequel too.