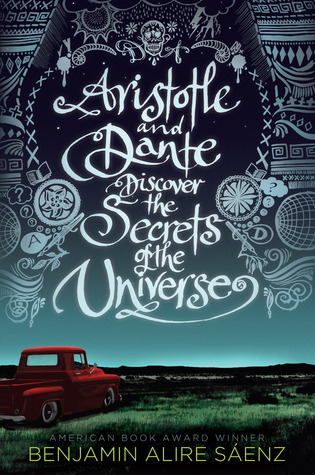 Aristotle and Dante Discover the Secrets of The Universe
By Benjamin Alire Saenz
I totally forgot to publish this post!!  It was left in my drafts. 😦
TFG May Book Discussion
Why do we smile? Why do we laugh? Why do we feel alone? Why are we sad and confused? Why do we read poetry? Why do we cry when we see a painting? Why is there a riot in the heart when we love? Why do we feel shame? What is that thing in the pit of your stomach called desire?
In the summer of 1987, Aristotle and Dante meet at the swimming pool. They were both loners and have very different personalities but something in them clicked and it started a strong friendship between the two. Through the course of their friendship, they learn more about each other, their thoughts, fears and life at home. They discover things about themselves and the things they hold important.
Ari is the typical tough kid which no one wants to cross in school. He has a strong character which makes him a bit of a loner. He has personal issues with his parents about his older brother in prison who no one wants to talk about.
Dante is a sweet and loving kid. He is an unusual kid with a different way of looking at the world.
I liked the story very much. It started off as a typical story about summer friendship but then panned out to be something deeper.
It was very gender sensitive and touching. I liked the fact that it tackled homosexuality in a delicate, non-offending way. It felt very natural that everything started out as casual high school friendship with no hint of malice and then developed into love. It showed how a teen can feel confusion at some point and question a lot of things about himself especially if his preferences were nonconformist.


I had a feeling there was something wrong with me. I guess I was a mystery even to myself. That sucked. I had serious problems.

I wanted to hug Ari when he realized (or rather his mom pointed out) about how he really felt about Dante because it felt very innocent. I love their parents because they were all so accepting and showed that they love their children no matter what – a true manifestation of unconditional love. I wish every household was like this.
There are worse things in the world than a boy who likes to kiss other boys.