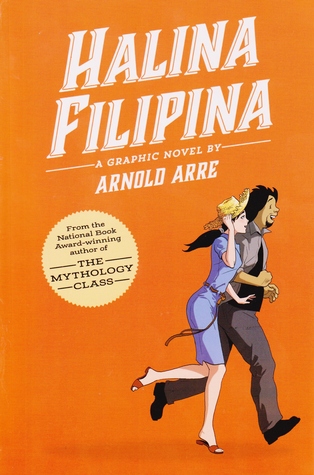 Halina Filipina
by Arnold Arre
After reading Mythology Class, I was interested to read more local graphic novels. It was nice to read and discover works made by Filipino artists and somehow, I can say that their works are well thought of and executed.
Halina Filipina is a graphic novel about Halina, an American born Filipina who came back to the Philippines to visit relatives and Cris, a struggling movie critic. The two met randomly inside a mall and eventually hit it off. Cris then helps Halina how to live and survive in Manila while Halina makes Cris realize the importance of his hometown.
The story is very simple. It had a "500 days of Summer" vibe to it. A summer friendship, a fling, an upcoming romance that was not there in the end. It's a love story without all the mushy drama. Reading Mythology Class then jumping to this, each is very different from the other and shows the versatility of the author to weave stories at entirely different genres
The presentation of characters were clear and consistent all throughout the story. They were realistic and believable. Cris, for a main character was someone most people can relate to. He is flawed. He has his own set of principles in life and struggles to make ends meet (financially and emotionally) during the period he is with Halina.
Halina on the other hand, is like a typical Filipina born and raised in a foreign land. She is very eager to learn about the Philippines and discover places and meet new people.
Zaldy and Meldy Show. This one represented how people tend to follow shows and idolize its hosts that can help them financially. This is a reflection of our reality. Some people, like Cris, hate the fact that people only religiously try to watch these shows live for financial gain but it's something they will repeatedly do because it entertains them and helps them have a chance to win something.
I really like the ending.